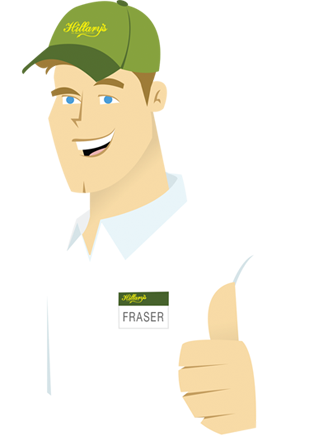 Welcome to Hillary's Cleaners! We were formed in 1949 by Fraser Hillary and are considered to be one of Ottawa's top professional dry cleaning services.
We are best known for our dedication to customer service and our wide range of service offerings, including same day dry cleaning, morning curb side laundry drop off, FREE dry cleaning pick-up and delivery service, garment repair and alteration services, wedding gown cleaning, dry cleaning drop off boxes, passport photos and environmental cleaning processes. This customer service approach has allowed us to live up to our trademark and slogan
"The Nicest Cleaning in Town"
.
We currently have 6 Hillary's Cleaners locations throughout the Ottawa area.
Professional Care

We're a supreme, door-to-door delivery dry cleaning and laundry service. With minimum effort you choose a pick-up & drop-off time.

Fast Delivery

Overnight dry cleaning and laundry delivery. Your clean clothes will arrive 24h after pick-up.

Excellent Results

We provide high quality dry cleaning, laundry and ironing services from premium facilities.
HILLARY'S TESTIMONIALS
Listen to what our customers are saying about us!
I'm very pleased with the service provided at Hillary's. I do the weekly office pick-up and drop-off service and I have never had an issue. Highly recommended.

Julie-Anne L


Had a wonderful and refreshing customer service experience on my first visit. I'd recommend giving them a try.

Jeremy Irving


I have been using Hillary's for a couple of months now, they provide amazing service and have friendly staff. I would recommend them to anyone looking to get your clothes dry cleaned in the Ottawa area.

Karl Tombak


Five easy stars. I was at another dry-cleaner up the street who told me my pants would take almost a week to be ready, a woman behind me in line promptly suggested I go check out Hillary's - where I was taken care of immediately and picked up my garment the next day! Saved my wedding-guest attire issue and was so affordable and friendly that I suddenly have the urge to dry clean my entire wardrobe? Great first experience with dry-cleaning and I will be back for sure. Thanks!

Leah Gibson


Love their pick-up and delivery service. Highly recommend

Jenah Thompson


My go to spot for my expensive dry cleaning habit - they've always done a good job from my sweaters jeans, and button ups to my Canada goose coat.

Adam Brunelle


Wonderful service and still the best in ottawa.

Nadereh Mohajer


Fair customer service. A while back I brought in my Canada goose jacket to be cleaned, they have mentioned that it will need to be sent over to Toronto. A week later I find out that it was dry cleaned at the Ottawa location and that the fur on the collar has fallen off. After a back forth with management they ended up paying for the repairs. Karen the manager was very helpful with the repairs, but I do say to keep in mind that they did not take full care of my jacket at first.

maxim hana